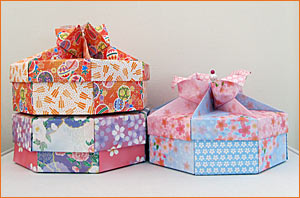 Most of the octagonal boxes shown on this page required 8 sheets of paper measuring either 5 7/8 inches (15 cm) square or 6 inches square: 4 sheets for the lid and 4 sheets for the base. However, a few of these octagons, like the ones shown at left, required 16 sheets of paper: 8 for the lid and 8 for the base.

Origami paper has been used for most of these octagons but some have been constructed from scrapbook paper. Double-sided paper works best.
 
Of all the modular origami boxes featured on this site, the octagons are probably the most challenging to create.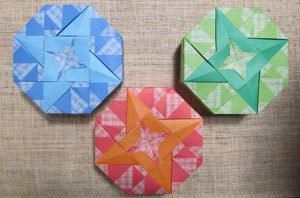 NON-MODULAR
| | ] | | | | |
| | | | |
| | | | | |
MODULAR BOXES
| | | | |
| | | | | | | | |
| | | | | | |
RESOURCES
| | | | | |
|

Site design © 2017, 2020 - RCI Sites