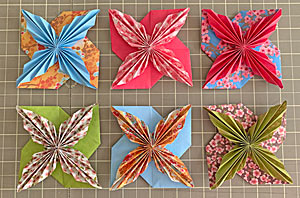 Tomoko Fuse designed these fancy pinwheel-shaped tatos featuring beautiful fan-fold decorations. The model looks complicated, but it is not difficult to make.

These are good examples of the traditional tato form: a self-closing flat pouch/purse or envelope, ususally made from a single sheet of paper.

In Japan, tatos were traditionally used as coin purses or to hold small items like buttons, needles, and thread. You could use tatos like those shown here to send messages or money gifts to your family and friends.

The beauty of these tatos depends heavily on a color change effect, so double-sided paper is a must for this model.
NON-MODULAR
| | ] | | | | |
| | | | | |
| | | | | | | |
MODULAR
| | | | | |
| | | | | | | | |
| | | | | | |
RESOURCES
| | | | | | |
|

Site design © 2017, 2020 - RCI Sites