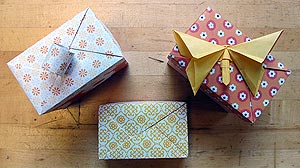 Several styles of non-modular rectangular boxes are shown here. One type has a separate base and lid, often with a decorative knob or handle on the lid. Another type has a hinged lid, with the whole box made from just one sheet of paper. Some of those feature an inner liner which helps to keep the lid closed.

Finally, there are some lidless party trays. They are more oblong than rectangular, but are being grouped with the rectangles for now.

Designers include Tomoko Fuse, V'Ann Cornelius, Mari Ono, and Sweet Paper.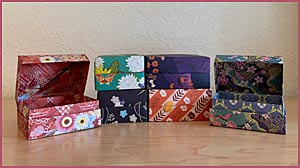 NON-MODULAR
| | ] | | | | |
| | | | | |
| | | | | | | |
MODULAR
| | | | | |
| | | | | | | | |
| | | | | | |
RESOURCES
| | | | | | |
|

Site design © 2017, 2020 - RCI Sites