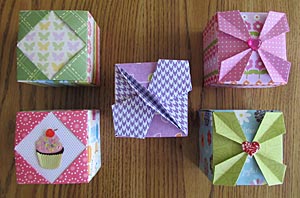 The boxes shown here are Tomoko Fuse's variation on the traditional origami masu box. This design appears in several of her books. Sometimes it is called a Cube Box, sometimes a Dice Package.

This type of box features triangular flaps which are tucked inside or under an attractive fastener, called a stopper, to close the box and lock it shut. Many different styles of stoppers may be used.

A single square sheet of paper is required for the basic box, and a smaller square or rectangle for the stopper. Adding a liner will strengthen and neaten the box.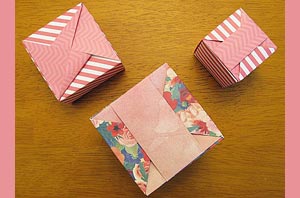 NON-MODULAR
| | ] | | | | |
| | | | |
| | | | | |
MODULAR BOXES
| | | | |
| | | | | | | | |
| | | | | | |
RESOURCES
| | | | | |
|

Site design © 2017, 2020 - RCI Sites