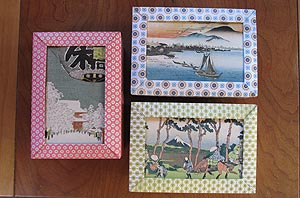 Two styles of modular rectangular boxes are featured on this page, both designed by Tomoko Fuse.

Each "picture frame" box (examples at left) requires four sheets of rectangular paper -- two sheets for the lid and two for the base -- plus an image to insert in the frame.

Each "boîte rectangulaire" style of box (examples at right) is made from eight square sheets of paper -- four for the lid and four for the base.