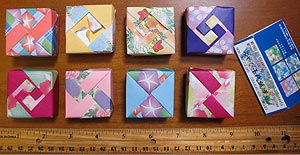 Each of the little boxes shown here was made from 8 sheets of origami paper measuring either 3 in (7.5 cm) square, or 4 in (10 cm) square, or 4 5/8 inch (11.75 cm) square. These are all standard sizes in which origami paper is often sold.

The lid of each box required 4 units and the base of each also required 4 units, with each unit folded from one sheet of paper.

Working with small sheets is challenging, but these petite boxes are so charming!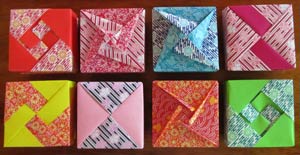 NON-MODULAR
| | ] | | | | |
| | | | |
| | | | | |
MODULAR BOXES
| | | | |
| | | | | | | | |
| | | | | | |
RESOURCES
| | | | | |
|

Site design © 2017, 2020 - RCI Sites