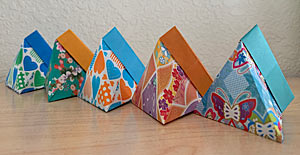 Each box on this page has been folded from a single square or rectangular sheet of paper. Slightly stiffer paper, like TANT, will perform better than thin/soft paper..

The boxes at left are called Pop Boxes because a gentle squeeze will make them snap open with a satisfying little pop.

The Tetra Boxes at right, designed by Jane Rosemarin, can be hung on a holiday tree with small gifts or treats inside them.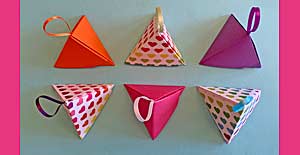 NON-MODULAR
| | ] | | | | |
| | | | |
| | | | | |
MODULAR BOXES
| | | | |
| | | | | | | | |
| | | | | | |
RESOURCES
| | | | | |
|

Site design © 2017, 2020 - RCI Sites