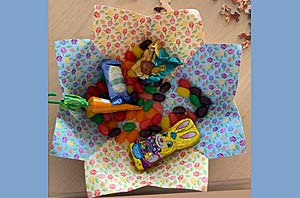 The modular containers featured on this page were designed by Tomoko Fuse. I have tweaked her design a bit in a few cases.

Tomoko calls this origami model a Flowery Plate, but I think it looks more like a bowl. Each one requires four sheets of square paper. Double-sided paper works best, but single-sided may also be used. None of the reverse side of the paper is revealed inside the plate/bowl, and only a small amount is revealed on the outside.

These plates/bowls are practical as well as pretty -- use them to serve snacks at a party, or as a substitute for Easter baskets.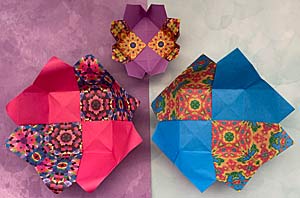 NON-MODULAR
| | ] | | | | |
| | | | |
| | | | | |
MODULAR BOXES
| | | | |
| | | | | | | | |
| | | | | | |
RESOURCES
| | | | | |
|

Site design © 2017, 2020 - RCI Sites